SERVICES

We are pleased to offer the following services and technologies to our patients:
ROOT CANAL TREATMENT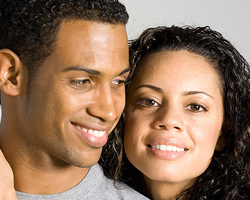 Root canal treatment (also referred to as root canal therapy or endodontic therapy) is made necessary when an untreated cavity reaches all the way to this pulp. Treatment may also be needed when deep restorations or trauma to a tooth cause nerve damage. Once the pulp becomes infected, it can begin to eat away at the surrounding bone (this is known as an abscess). If the pulp is infected, not only is it painful but it will require treatment as it cannot heal on its own. Symptoms that indicate the pulp has become infected may include sensitivity to hot/cold or sweets, pain, swelling, pain to biting or pressure, and a bad taste in the mouth. However, sometimes no symptoms are apparent and you may be unaware of any problem until a checkup.

A root canal is performed to clean out the infected tooth pulp and disinfect the canals of the tooth. Alternate treatment would be to extract the tooth. Once the infection is resolved, the canal is filled in to prevent any further infection. Usually a core build-up and crown is recommended for restoring a tooth that has undergone root canal therapy. Back to top






In order to provide nothing but the best to our patients, our office uses state-of-the-art technologies in all our procedures. These new technologies allow us to treat dental cases with extreme precision, detect dental concerns at early stages, and provide stunning and customized restorations. When you visit our office you can be confident that you are receiving on the finest and most advanced in dental care.
We proudly offer and use the following advanced equipment:
X-rays are a focused beam of x-ray particles passed through bone which produce an image on special film, showing the structure through which it passed. This provides the familiar black and white images doctors and dentists use to dia
gnose problems and disease. Without an x-ray of the whole tooth and supporting bone and gum tissues, there would be no way to detect infection or pathology that requires attention.
In our office we use digital radiography which allows us to take x-rays using up to 90% less radiation than conventional film x-rays. Using this technology, we are able to take an x-ray of your mouth by using a small sensor which records the image of your teeth and sends it to a computer. The result is a highly detailed image of your mouth that can easily be enhanced to better diagnose dental concerns and determine the very best treatment for each case. Back to top
PAPERLESS CHARTING
Our office is a completely digital (paperless) dental office. This means all x-rays and charting are made and recorded with the aid of the computer. This technology allows us to maintain your dental records electronically, and cuts down the unnecessary paperwork used with traditional paper charting. Traditional paper charting is difficult to keep standardized from doctor to hygienist to assistant. Even handwriting differences and coding make the charts look different. The computer eliminates this problem by using consistent charting methods that are accurate and precise, making it easy to read your dental chart and see up-to-date information. Digital charting standardizes the charting process so it is clear, easy to understand, and enables us to provide on the most accurate and precise care to our patients. When needed, this method also allows us to quickly and securely share information with your other health care providers. Back to top
---
1315 Alhambra Blvd., Suite 340 Sacramento, CA 95816
t. (916) 736-3101